Mall of the World
Dubai Plans to Build the World's First Temperature-Controlled City
Dubai announced grandiose plans to build "the world's first temperature-controlled city, Mall of the World" in the Al Sufouh district.
The world's first temperature-controlled city, which will be built along Shaikh Zayed Road in Dubai, the mall will be capable of receiving 180 million visitors a year. Mall of the World is to cost 25 billion dirhams and requires 10 years to build.
The Mall of the World will be enclosed by glass roof domes that will produce an 8-million-square-foot temperature-controlled environment where tourists can shop till they drop without ever stepping outside into the punishing 40-degree Celsiusplus summer heat. The glass roof domes will open to let fresh air in during cooler winter months.
The self-contained shopping and entertainment complex will include a Broadway-style theater district, a pedestrian walkway modeled on Barcelona's Las Ramblas, a 4.3-mile retail network of roads based on London's Oxford Street, 20,000 hotel rooms, underground parking, an indoor family theme park, and a "wellness district" catering to medical tourists.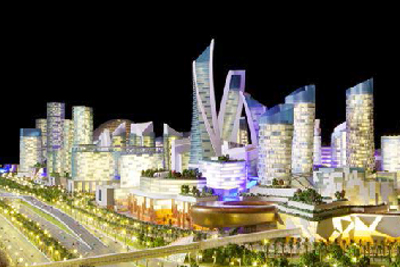 Here are a few interesting features about the Mall of the World:
Four times the size of Dubai Mall (Presently the largest mall in the world)
Located along Shaikh Zayed Road, the mega structure will occupy a total area of 48 million square feet which will be covered by a glass dome. The world's largest shopping centre, Dubai Mall, covers 13 million square feet, which is about the size of more than 50 football pitches. The proposed indoor city will be nearly four times the area occupied by Dubai Mall. That's approximately 200 football pitches combined.
Hotel links
Aside from featuring an 8 million square feet of shopping centre, the Mall of the World will provide links to 100 hotels and serviced apartment buildings that have 20,000 rooms.
Theme park
Residents and visitors in Dubai won't need to venture out of town just to spend a day in a theme park. The Mall of the World complex will house an indoor family theme park, which will be the largest in the world, so it will just be right next door.
Dubai International Airport is expected to be the World's Biggest
Dubai International (DXB) is set to become the world's largest airport by international passenger volumes in the not so distant future, Dubai International's rise is continuing to exceed expectations with 16 per cent rolling 12 months growth and 66 million passengers expected to pass through the airport this year.
In contrast the recently opened Dubai World Central airport has a starting capacity of five to seven million passengers in its first phase.The site does, however, have significant potential for expansion due to its size, at around 140 square kilometres.
Emirates Sky Cargo is expected to divert its entire operation to DWC next year and will be transferring its dedicated cargo flights permanently to the airport.
A maintenance operation on Dubai International's two runways over 80 days from May 1 to July 20 next year is also expected to see some airlines divert their flights to DWC.