SYNOPSIS:
Singapore is situated at the southern tip of the Malaysian Peninsula. Strategically located along the major shipping and air routes of Asia it is the major nerve centre for trade and investments in the region.
Spanning just over 622 sq km, Singapore though small is undoubtedly an advanced and bustling economy. It thrives on an excellent infrastructure, highly educated labour force, political stability and an efficient business environment. Singapore is an ideal for holding company and headquarters location and a gateway for foreign investments in to the emerging economies of Asia such as China, India, Vietnam, Indonesia and Thailand.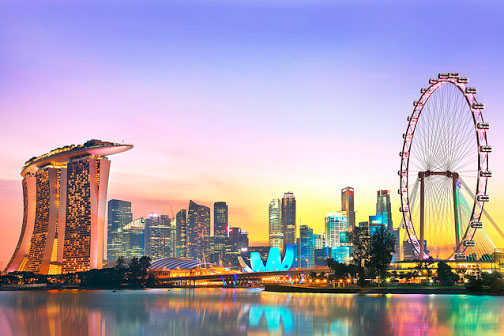 A company incorporated in Singapore has the following characteristics:
Shareholders:
A minimum of one shareholder is required whose details are filed on the public register. Corporate shareholders are permitted and anonymity can be achieved by the use of nominee shareholders.
Directors:
A minimum of one director is required and full details must be filed with the Public Registry. Corporate directors are not permitted. Also one Director MUST be a Singapore resident.
Officers/Secretary:
Companies are required to appoint a resident company secretary who must be a natural person.
Restriction on name and activity:
Names which suggest any connection to the existing companies or trade mark / patents are generally prohibited and certain words which suggest specialist activity can only be used when the appropriate licences have been obtained e.g. bank, insurance company and other specialist financial enterprises.
Local Requirements:
As a matter of local company law the company MUST maintain a registered office address within the jurisdiction of incorporation and must also appoint a local resident company secretary. The secretary cannot be the sole director of the company. We would generally provide these services as part of the domiciliary service fee.
Timescale:
Incorporation of a Singapore company takes around 10 days.
Annual Reporting:
Singapore Companies are required to file annual tax returns with unaudited financial statements (for private cos. with revenue less than S$ 5mn).
Taxation:
The Singapore company may be taxed in Singapore depending on activity and geographical location where such activity is conducted.
Confidentiality:
Details of shareholders and Directors appear on the public file.
Company Renewal:
Renewal for Singapore Companies falls every first week of the month of incorporation. In case of late renewal, government and service charges shall be applicable for late payment of it's annual license.
Updated passport copy and address proof of the shareholder/director are required to be submitted upon renewal of the company.
Required Documents:
KYC Documents for individual Director/Shareholder
Passport copy
Proof of address (dated less than 3 months)
Bank reference (dated less than 3 months with satisfactory record clearly mentioned and also the time period the client has been dealing with the bank: minimum of 2 yrs)
Detailed CV
Professional reference
KYC for Corporate Director/Shareholder
Certificate of Incorporation
Registered address and place of business
Certificate of Current Standing if incorporated more than 1 year
Register of Directors
Register of Shareholders
Memorandum & Articles of Association
Whilst every effort has been made to ensure that the details contained herein are correct and up-to-date, it does not constitute legal, tax or other professional advice. We do not accept any responsibility, legal or otherwise, for any errors or omissions.